The first things first: 3 crucial prep steps
Before we actually start to make ice cream at home, here are a few preparations to mind. It's crucial to make them beforehand because some processes can take you several hours or even more time.
Strain
You're free to choose any marijuana strain you like or depending on the effects you wish to get. Just pay attention to the strains that may be used for the edibles with different effects promised and use the one you like most of all. We urge you to learn the THC and CBD ratio before using a definite strain because it influences weed ice cream potency and dosage. Herewith, knowing all the advantages of Sativa, India, and Hybrid, you can easily find the perfect strain for you.
Decarboxylation
Decarb…, what? Putting it simply, it's just activation of active compounds of the weed (THC and CBD). Though the process seems to be complicated, it isn't with the comprehensive step-by-step instruction at your fingertips. You should be ready that decarboxylation is a time-consuming process that takes several hours. So, we advise you to do that before starting mixing the ingredients for the future ice cream. Besides, you should make sure that it's done correctly to get the desired effects.
Equipment
It's obvious that a stove, saucepans, bowls, mixer/hand blender, spoons, and other common kitchen staff are needed. However, it will be perfect in case you will have an ice cream maker to make it perfect. Yet, if you don't have it, then check if you have a container that suits the freezer so that you can put the mixture in it and cook ice cream.
Our Top 3+1 best cannabis ice cream recipe variations
Today you can find dozens of cannabis ice cream variations with any flavor and difficulty level. That's why we choose the 3 recipes that are simple but delicious to ease your choice. Let's just check them out and choose the winner.
Basic but delicious weed ice cream recipe
Tastes differ. There are no two persons with identical preferences. So, let's start with our extra "+1" recipe of marijuana-infused ice cream that is basic for all the other kinds of edibles (ice cream variations). After this extremely easy recipe, you'll find our top 3 infused ice cream recipes to diversify your experience. Yet, here is a 4-ingredient recipe with minimum equipment required.
What do you need?
Ingredients:
Equipment:

*Simple cannabis cream: 300 ml;
Eggs: 4;
Caster sugar: 1/2 a cup;
Vanilla extract: 1 teaspoon.

2 mixing bowls;

Mixer;
Ice cream maker/freezer container.
*Note!
In case you have no simple cannabis cream, don't be upset. Only 2 extra ingredients are needed to make it:
Heavy cream: 2 cups;
Marijuana: 5-10 g (decarboxylated, broken up) Warning! The dosage of the weed materials varies depending on the strain, your individual susceptibility, and desired effects.
Additional Equipment:
Cheesecloth or fine mesh;
Saucepan;
Hand blender (can be changed by mixer).
Take a medium saucepan and combine cannabis and heavy cream — cook below a simmer for 1 hour. After that, you need to strain it through fine mesh/cheesecloth and pour it into a mixing bowl. Add non-infused cream if needed and mix with a hand blender/mixer for 30 seconds. Chill and use it for the ice cream.
How to make it?
Step 1. Take 2 mixing bowls. Separate the yolks from the egg whites and place them in the prepared bowls.
Step 2. You need to beat the egg whites with a mixer until the peaks.
Step 3. Add caster sugar gradually (no more than 1 tsp at a time) until 1/4 cup of the sugar is used.
Step 4. Take the mixing bowl with the yolks and mix them with the rest of the caster sugar (you need to get the pale and thick mixture). Add the vanilla extract to the blend.
Step 5. Combine both egg mixtures, folding them gently.
Step 6. Mix the cannabis cream into the egg mixture. Do that until they are combined thoroughly.
Step 7. Take the container and pour the entire mixture into it. Place the lid and freeze it for 3-4 hours.
Here you can add any toppings/fruits to your taste to diversify the experience and just enjoy the sweet dessert on your way to getting high.
Recipe #1: Strawberry Cannabis Infused Ice Cream
It's no wonder why this kind of infused ice cream is on the list. Fresh, sweet, and juicy dessert can make your day and journey really pleasant.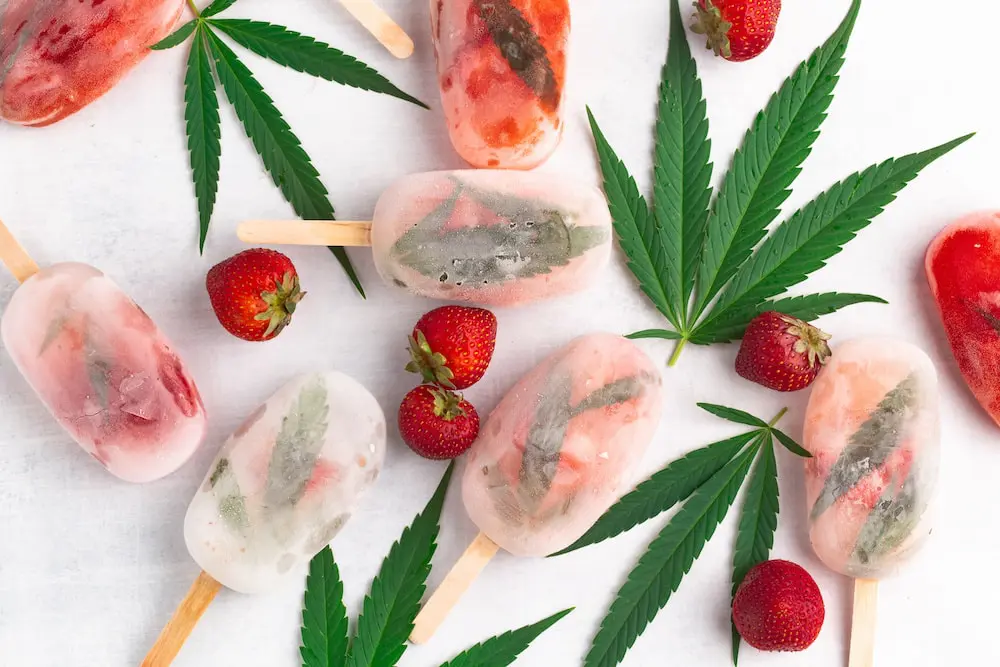 What do you need?
Ingredients:
Equipment:

Cannabis (decarboxylated and ground): 2-2.5 g (can vary);
Strawberries (diced): 2 cups;
Heavy Cream: 2 cups;
Sugar: 1 cup;
Vanilla extract: 1/2 tsp;
A pinch of salt.

Saucepan;
Whisk;
Ice maker/freezer container.
How to make it?
Step 1. Combine weed and milk in the saucepan. Place it on low heat for 60-90 minutes, keeping it away from boiling. Try to maintain the temperature at 46°C.
Step 2. After that, add half of the sugar along with the strawberries, and allow it to sit.
Step 3. Combine the heavy cream, salt, vanilla extract, the rest of the sugar, and strawberry-sugar mix. Also, add the mix of milk with marijuana to that. Slowly mix them. You need to get a thick sweet-smelling paste.
Step 4. Pour this mixture into the container or ice-cream maker. Freeze and eat.
Recipe #2: Banana+Marijuana Infused Ice-cream
It's one of the most common cannabis ice cream recipes to meet. If you have a specified flavor preference, you can skip or replace any out of the ingredients: banana, sugar, honey, rum, and so on. Yet, in this case, get ready that the taste of the desert will be changed as well.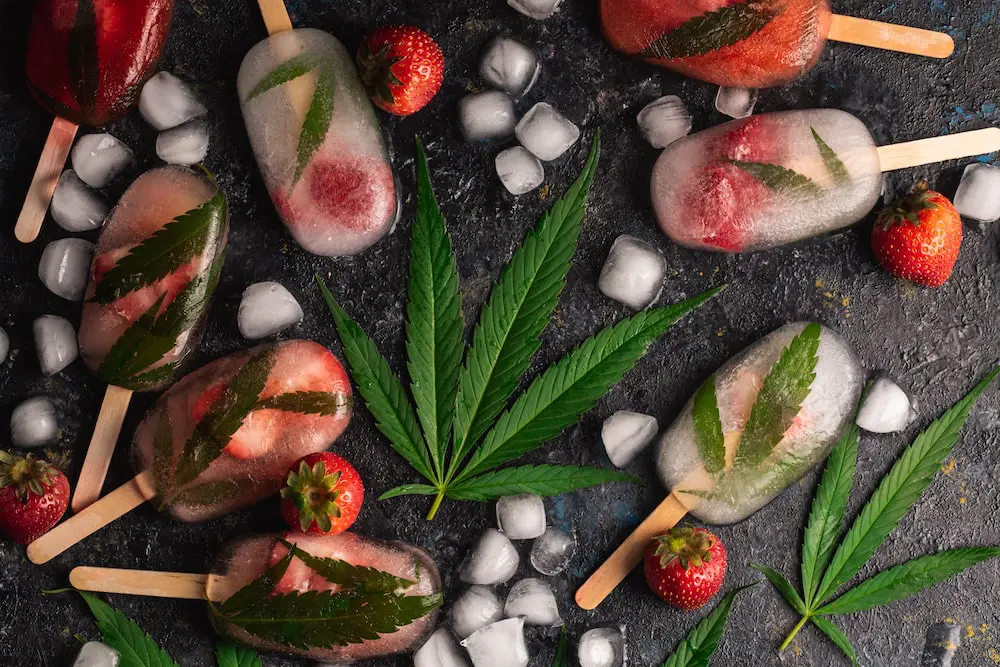 What do you need?
Ingredients:
Equipment:

Cannabis (decarboxylated and ground): 10 g (can vary);
Heavy cream: 500 ml;
Butter or olive oil: 2 tbsp;
Bananas (riped): 2 fruits or about 400 g;
Sweet honey: 1 tbsp;
Rum: 3 tbsp;
Sugar: 75 g;
A pinch of salt;
Extras like nuts, chocolate chips, mint, and so on (optional).

Large saucepan;
Whisk;
Fork;
Bowl;
Freezer container/ice maker.
How to make it?
Step 1. Add heavy cream into the saucepan and place it on medium heat.
Step 2. While you keep stirring the cream, add butter, sugar, salt into it. Stir it constantly.
Step 3. Add the ground cannabis bud to the well-blended mixture.
Step 4. Meanwhile (when the mixture is heating), you need to cut and mash bananas in a bowl using a fork.
Step 5. Add the honey, rum plus mashed bananas to the mixture. Keep stirring it for some more time.
Step 6. After that, pour the mixture into an ice-maker or freezer container.
Recipe #3: Chocolate Cannabis Ice Cream
Another highly popular flavor for delicious desserts is chocolate weed ice cream. So, let's find out how to make the tasty treat with it.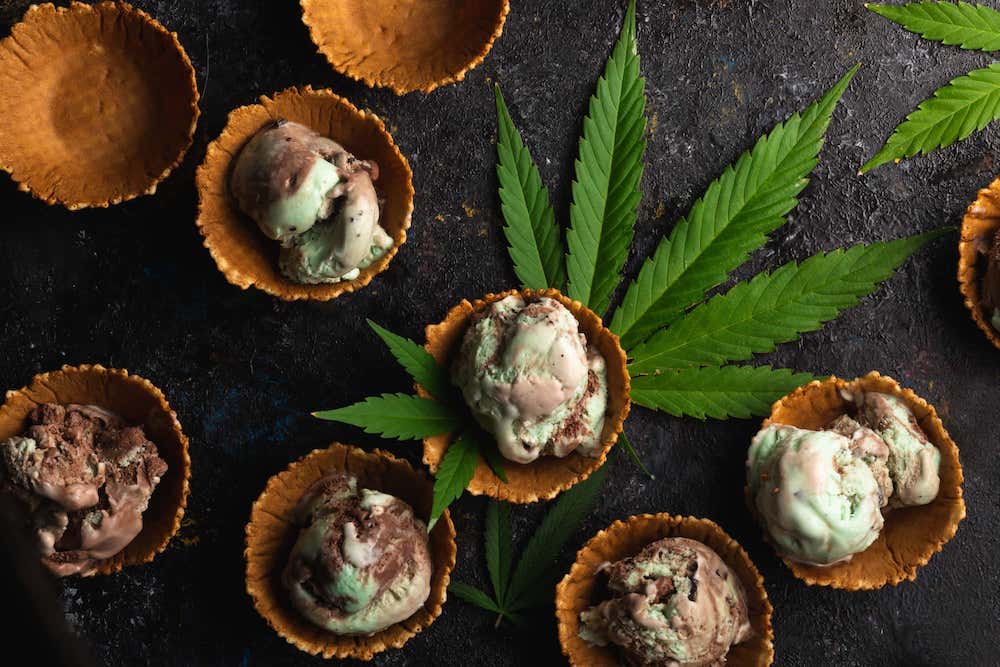 What do you need?
Ingredients:
Equipment:

Weed (decarboxylated): 3-3.5 g (can be changed);
Sugar: 3/4 cup;
Coconut oil: 1/4 cup;
Milk: 1 cup;
Cocoa powder (unsweetened): 2 tbsp;
Chocolate (semisweet): 55 g;
Heavy cream: 2 cups;
Eggs: 3 yolks;
A pinch of salt.

Saucepan;
Mixer;
Bowl;
Cheesecloth or strainer;
Whisk;
Ice maker/freezer container.
How to make it?
Step 1. Put decarboxylated cannabis, milk, coconut oil, cocoa powder, salt, and sugar into a saucepan over medium heat. Stir all that continuously.
Step 2. After all the ingredients are mixed well, you need to filter it using a cheesecloth/strainer. Back the liquid to the saucepan and put it on a simmer.
Step 3. Take a small bowl and whisk egg yolks lightly. Add about 1/2 cup of the hot blend from the saucepan to yolks and stir them a little bit. Pour everything back to the saucepan.
Step 4. When the mixture starts thickening (don't allow it to boil!), bring it off the heat and put the chopped chocolate into it.
Step 5. Pour this chocolate sauce into a chilled bowl and refrigerate it for at least 2-3 hours.
Step 6. Take the chilled chocolate sauce, add heavy cream to it, and stir that all.
Step 7. Pour the mixture into the container or ice-cream maker, and freeze.
Certainly, that's not all possible variations to try. You may be free to cook more cannabis infused ice cream recipes like double chocolate, fruit, as well as ice cream with bear gummies, peanut butter cookies, and so on. Just let your imagination run wild with the pairings and combinations to find your perfect weed ice cream!
FAQ about cannabis ice cream
How to make vegan cannabis ice cream?
You can use any described recipes just replacing some ingredients. So, use 1 can of coconut cream instead of heavy cream, and replace milk with 1 can of coconut milk.
What is the potency of ice cream?
Several factors may influence the potency of any edible: strain, dosage, health conditions, individual susceptibility, and so on. It's hard to calculate correctly the potency of the homemade edibles, including ice cream. That's why it's better to start with small doses. What's more, the effects are stronger and longer when eating marijuana, yet you need to wait more time to get high. Therefore, don't hurry to eat more to hasten the effects.
What cannabis concentrates can I put in my ice cream?
Feel free to use not only decarboxylated and ground bud into the milk or heavy cream while heating it, but use the CBD oil, leaves of the plant. Don't forget to check the dosage before adding it.